Whitehorse with special guest AHI Saturday, August 20, 2022 at 7:30 PM EDT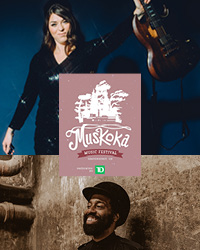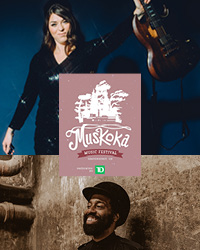 You've selected
Saturday, August 20, 2022 at 7:30 PM EDT
×
MUSKOKA MUSIC FESTIVAL presents the JUNO-award winning group WHITEHORSE as the headliner of the Muskoka Music Festival with special guest Polaris Music Prize long-listed artist AHI. Join us all weekend for the 2022 Muskoka Music Festival and Dockside Festival of the Arts. For more information please visit www.muskokamusicfestival.com.
Since their debut, Whitehorse has traveled from magnetic folk duo to full-blown rock band and beyond. In truth Whitehorse is never fully either one or the other, but an ever-evolving creative partnership that challenges both artists, Melissa McClelland and Luke Doucet, to explore new instrumental and lyrical terrain with each record. Steamy, swampy and squalling in equal measure, Whitehorse's signature sound is guitar-heavy, harmony-abundant and lyrically deft. Now, the JUNO Award winners return with Strike Me Down, a collection of disco-twirling, hard riffing tales from the brink and their second full-length release of 2021, following hot on the heels of Modern Love. Strike Me Down showcases Whitehorse's masterful, fantastical storytelling and melodic pop sensibilities, with plenty of space made for guitar shredding, epic basslines and spaced-out vocal layering. High-impact production and prismatic visuals contribute to Strike Me Down's high-stakes, epic vibe.
Key single "Why So Cruel" synthesizes decades of dance-ready nightclub noir, from Blondie and ABBA to Kacey Musgraves' "High Horse." 2022 sees Whitehorse's prolific streak continue with another full length album scheduled for release in I'm Not Crying, You're Crying, as well as Volume 3 of the band's popular The Northern South series of covers EPs. In addition to the band's long-awaited return to live touring, with headline tours of North America and a host of high-profile summer festival appearances lined up, it promises to be another stellar year for Whitehorse.
Though much has been made of AHI's years spent backpacking everywhere from the hills of Ethiopia to the jungles of Trinidad, Prospect, the globetrotting singer/songwriter's extraordinary new album, is the story of an even more profound journey: an internal quest for understanding and self-discovery. Recorded in Nashville with GRAMMY-winning producer Paul Mabury, the collection is bold and expansive, delivering on the promise of AHI's first two records with a captivating, immersive sound that showcases the raw power of his gravel-on-silk vocals like never before. The songs here are deeply introspective, looking inward with piercing insight and honesty, and the performances are similarly fearless, blurring the lines between roots, folk, pop, and soul as they grapple with pain and healing, faith and resilience, connection and identity. Born in Ontario, AHI (pronounced "eye") grew up in a traditional West Indian family that considered music diversionary entertainment, but after dropping out of school to hike, meditate, and fast his way across the world, he set his mind to pursuing songwriting professionally. His debut album, We Made It Through The Wreckage, was a breakout hit, with lead single "Ol' Sweet Day" racking up more than 14M streams and earning AHI an NPR Tiny Desk Concert. The attention helped him score a deal withThirty Tigers for his next LP, 2018's In Our Time, which garnered a JUNO nomination and led to dates with Patty Griffin, Michael Franti, and Lauren Daigle.
Venue
Gravenhurst Opera House
295 Muskoka South
Gravenhurst ON P1P 1J1