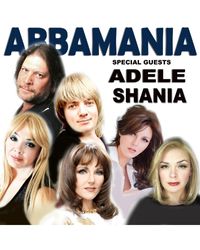 Abbamania
When
Occurs on Friday February 24 2023
Approximate running time: 2 hours
Venue
Event Notes
×
ABBAMANIA CANADA
ABBAMANIA, THE ONLY PRODUCTION TO PERFORM FOR MAMMA MIA, IS AN ALL CANADIAN CAST AND IS THE WORLDS NUMBER ONE PRODUCTION TO ABBA . ABBAMANIA RECREATES ABBA AS THEY WERE ON STAGE IN CONCERT WHEN THEY WERE ON STAGE AS ONE OF THE MOST SUCCESSFUL BANDS IN POP HISTORY. ABBAMANIA HAS PERFORMED FOR THE PAST 18 YEARS TO SOLD OUT CONCERTS, WITH THE LONDON SYMPHONY, SAN DIEGO SYMPHONY, BOSTON SYMPHONY, VANCOUVER SYMPHONY, DENVER SYMPHONY AND THE MONTREAL SYMPHONY, TO MENTION A FEW. ABBAMANIA PERFORMS EVERY SONG NOTE FOR NOTE, CHORD FOR CHORD EXACTLY AS THE ORIGINAL RECORDINGS. SPECIAL GUESTS, THE ADELE AND SHANIA SHOW. HEAR ALL THE HITS.
THE NEW YORK TIMES ''Abbamania is amazing"
CHICAGO TRIBUNE " Abbamania, looks and sounds like the real ABBA.