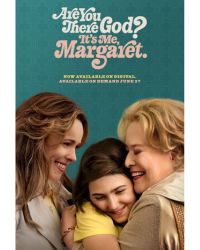 Fine Films - December - Are You There God?
When
Occurs on Tuesday December 5 2023
Approximate running time: 2 hours
Venue
Event Notes
×
Are You There God? It's Me, Margaret" is a heartfelt and poignant adaptation of Judy Blume's beloved 1970 novel that beautifully captures the essence of growing up, self-discovery, and the quest for identity. It will strike a chord with audiences of all ages. When her family moves from New York City to the New Jersey suburbs, 11-year-old Margaret is upset about moving away from her friends and her paternal grandmother, Sylvia. In her new school Margaret navigates new friends, feelings, and the beginning of adolescence. The film stars Rachel McAdams, Abby Ryder Fortson and Kathy Bates. It received a 99% critics' rating on Rotten Tomatoes.
Official Trailer: https://www.youtube.com/watch?v=LzRzojHC3iE