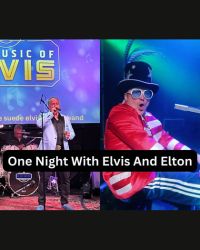 One Night with Elvis & Elton
When
Occurs on Friday August 9 2024
Approximate running time: 2 hours
Venue
Event Notes
×
1 NIGHT WITH 2 AMAZING ACTS - DON'T MISS THIS OPPORTUNITY TO SEE BLUE SUEDE ELVIS & EARLY ELTON JOHN !!!!!!!
Blue Suede is not your typical Elvis tribute band. They've taken a unique approach that sets them apart from the rest. Instead of relying on flashy costumes or gimmicks, they rely on their exceptional musical talent and passion for Elvis's greatest hits.What truly sets Blue Suede apart is their passion for authenticity. By staying true to the original arrangements, they give you a genuine taste of what it was like to witness Elvis perform live. The band's dedication to preserving the spirit of the King of Rock 'n' Roll isnothing short of remarkable.
Blue Suede Elvis Video
Re-live the sights and sounds of the classic 70's Early Elton John Elton Sean! The glamorous costumes, the glasses, the platform shoes and above all... the endless hits and timeless songs of Elton John in the heyday of his song writing and performance prowess. All the hit songs that powered the 70's radio waves as well as deep album stand-out tracks. The sights and sounds of Elton John...from the end of the world to your town.
Elton John Tribute Video